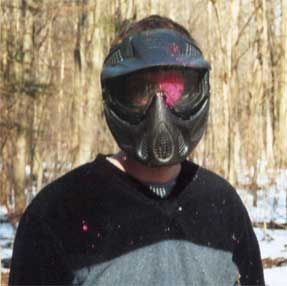 This is why we wear masks!
All players must have a safety mask specifically designed for use in the sport of paintball in good condition, a whistle to use if you become lost, or injured, and a barrel plug to play.

1. Safety goggles must be worn at all times inside the playing area and at the chrono range. Safety goggles may only be removed in the Base Camp area where barrel plugs are required. There is absolutely no exception to this rule. Failure to obey this rule will result in ejection from the paintball field for the day!

2. Any time during the day when you call yourself out, or between games you must have the barrel plug in your marker and the safety turned on. There will be no firing of paintball markers when you are out' or between games. Failure to bring your plug to the game results in ejection.

3. No matter what happens to you during the game, you must not remove your safety mask until after the game ends. Or you are in a safe/out of range base camp location. No shooting into or out of the Base Camp area, safe zones, or parking lot.

4. No person may enter the playing area without signing a waiver form. All players are required to have a waiver on file with the field before they are allowed to play Paintball. Players under 18 will not be permitted to play due to our liability waiver.

5.We reserve the right to approve any item a player brings onto a playing field, such as but not limited to "smoke bombs, paint grenades", etc. All equipment must be approved as safe before we will allow it to be used on the premises. All players must submit their paintball marker to be chronographed. The marker must shoot at under 285 feet per second to be eligible for play. Once the marker is set the player is not to change or manipulate their paintball markers speed in anyway. Failure to submit the paintball marker will result in suspension from play. Manipulation of the markers speed after it has been set will result in a one year ban from play. Random Checks will be conducted
(fluctuations can occur due to heat change).

6. Avoid the field hazards. Players should be aware that they will be in the bush. Consequently, players should be careful to watch for ruts, trenches, bunkers, as well as poison ivy, poison oak etc. on the playing fields.

7. A head count will be conducted of all participants. Insure that you check out with SunyJim or a charter member, before leaving the property.